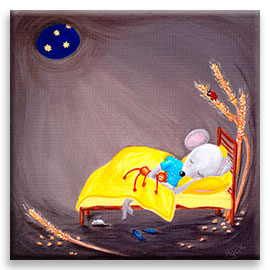 All art tells a story. Sometimes it's a moment captured in a photo, or a pose in sculpture, even abstract pieces have something to say. And although an artist often has a specific scenario in mind to share, many of the most thought-provoking, fascinating, and timeless pieces leave it up to you, the viewer, to fill in the blanks.
I create unique paintings for kids (and adults) with exactly this in mind: to be more than just cute nursery décor. My goal is to encourage viewers to imagine; to use my work to ignite their own creativity while discovering the secret little details I carefully blend into each piece.
Viewing a work of art can stir emotions, thoughts, and memories – and even create new ones. Hopefully, my paintings accomplish all of those things and more: they are writing prompts to inspire kids and families to imagine and share their own unique stories.
Composing these stories can create memories your family will cherish for a lifetime, and I'd love it if you share yours!
1. Sharing a moment
When a photographer snaps a pretty sunset, they're preserving a moment to share. Paintings sometimes attempt to accomplish the same – even art for kids, which usually grows from pure imagination.
At first glance "Tea Time" is a straightforward meeting between two happy forest friends. It's easy to imagine the feeling of the scene: bright sunlight beams onto the misty forest floor, and our friends' mutual smiles tell us they're enjoying each others company very much.
Take a closer look, and you'll notice little details that raise questions you can use as writing prompts:
•   Who else is coming to the party, just now appearing between the trees?
•   What are our friends laughing about? What are they eating and drinking?
•   How did they get here; is this their yard or a secret faraway meeting spot?
•   Do you think they'll relax all day, or are they preparing for a bigger adventure?
•   What will their friends, the squirrels, bring to the table?
These simple little questions can spark wildly imaginative stories over and over again; no two ever alike.
2. Inspiring imagination
Art for kids often depicts a scene clearly taken from an existing story: nursery rhymes, TV characters, and the like. This helps kids feel connected to the piece, because they can quickly understand what's going on and relate to it.
But that leaves little room for imagination, since those stories have already been told (and kids inevitably tire of the same-old characters).
My paintings (like "Midnight Walk") focus primarily on woodland and kid-friendly fantasy themes. Using the same "slice of a scene" approach, I try to create open-ended adventures that encourage children to wonder what comes before and after what they see.
Things like:
•    Where's the Fox family going (or coming from) so late at night?
•    Are they trying to keep quiet, or do they want to wake up their birdie friends?
•    Who's watching from the shadows, do they want to play too?
•    Papa Fox (or maybe it´s mama?) clearly sees something interesting, just outside the painting. What could it be?
•    Two of the Fox babies have discovered something… Who's leading who, and to where?
Art for kids should always get kids excited to imagine, create, and invent for themselves.
 3. Unlocking curiosity
You see a lot of familiar scenes in art for kids because it's comfortable for them to understand what they're looking at, right away. But children know (much better than we adults) the world's full of magical, mystical creatures and lands – especially underwater.
"Underwater Friends" blends a vibrant coral reef with a mysterious mermaid in a detailed underwater scene to both inspire imagination and unlock real-world curiosity. Children love fantasy, but picture their reactions when you tell them 'yes, there really are places like this in the world's oceans'!
We've already discussed how unique art for kids makes a wonderful imagination prompt, leading to wildly creative stories and memories.
Art can also lead to discovery. What catches your children's attention?
•    Are they captivated by colorful fish?
•    Amazed by corals and the idea of a secret underwater world?
•    Curious how creatures can survive with "no air"?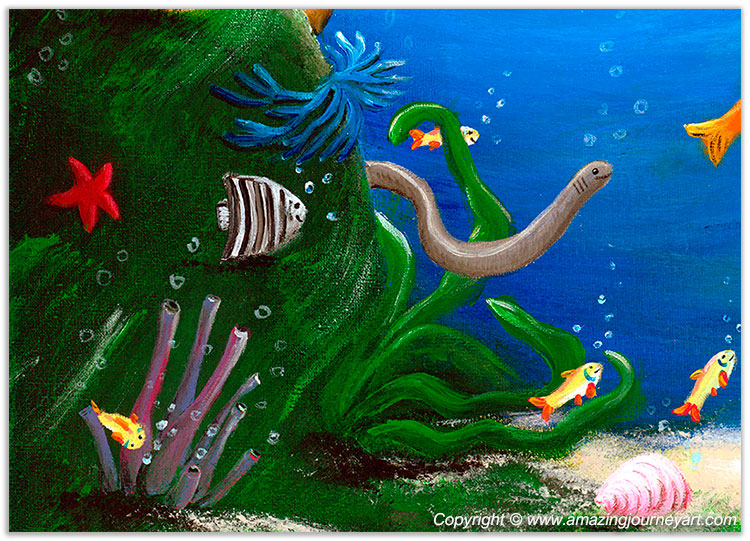 Using fantasy art to discover and unlock real-world curiosity is more than fun: it can be an extremely useful learning tool for children (and parents!).
Looking for more ideas?
Now that you're looking at art for kids with an inspired, storyteller's eye, you'll find inspiration all over.  If you'd like to see more examples to get you started (or request a unique painting or print for your kids' room or nursery), you'll find plenty in the Amazing Journey Art gallery.
Thanks for taking a look – I always welcome your thoughts and questions, and if you have an idea for a custom painting, I'd be thrilled to discuss it with you. Simply get in touch here, or in the comments section below!
Save
Save
Save